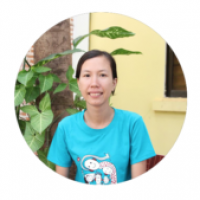 Sokpheak Doung
Sokpheak Doung
Artist and art teacher
Sopheak Doung was born on 2nd February 1990 in Siem Reap City, Cambodia.
She graduated high school in 2013 and knew Small Art School in 2011. She used to learn an English lesson at Pannasastra University in Siem Reap, Cambodia. She won international art awards in Japan. She is also interested in Khmer martial arts.
She loves painting about flowers, humans, and animals.  She wants to be an artist.